Discover the landscapes of the Costa Blanca by bike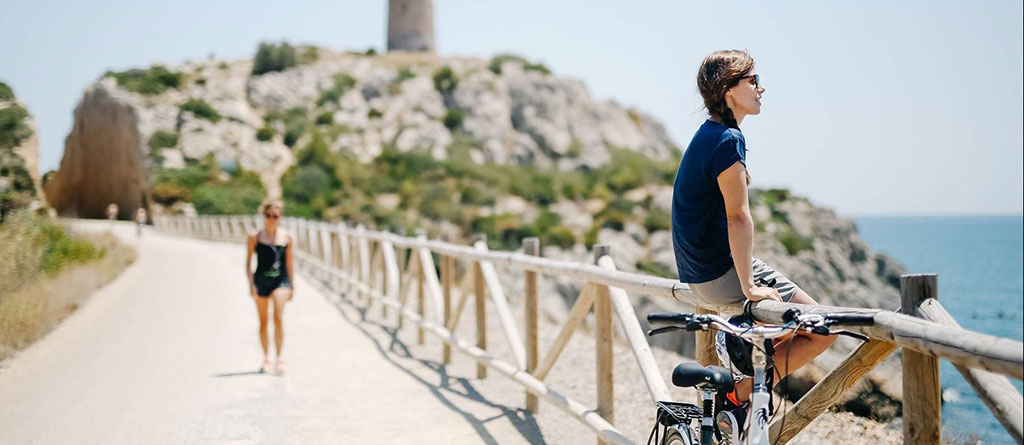 By comunitatvalenciana.com
Turisme de la Comunitat Valenciana presents a collection of cycling routes around the Costa Blanca.
With more than 2,500 hours of sunshine a year and an average temperature between 12º-20º in winter and 24º-32º in summer, you can cycle around the Costa Blanca 365 days a year.
You can find practically all kinds of landscapes to bike around.
Thick forests in the northern part and inland Alicante and desert areas with of high botanical value.
Almost two thousand metre high peaks or extensive wetlands surrounded by dunes along the coast.
Ravines overflowing with vegetation or secluded coves and a never ending selection of Mediterranean beaches.
Towns perched on top of the hills, medieval walled in towns, residential towns by the sea, spas, hermitages, monasteries, castles, snow wells that used to store ice, prehistoric caves with cave paintings, royal gullies, ancient horse trails and a huge selection of hikes.
The Costa Blanca is at the forefront of Europe in terms of cycling infrastructure with fully-equipped mountain bike centres, hundreds of what are known as greenways (marked hiking/cycling routes) and cycling projects with detailed tours and quality accommodation specialising in sports tourism.
Visits