L'Aljub – Pinet (Santa Pola)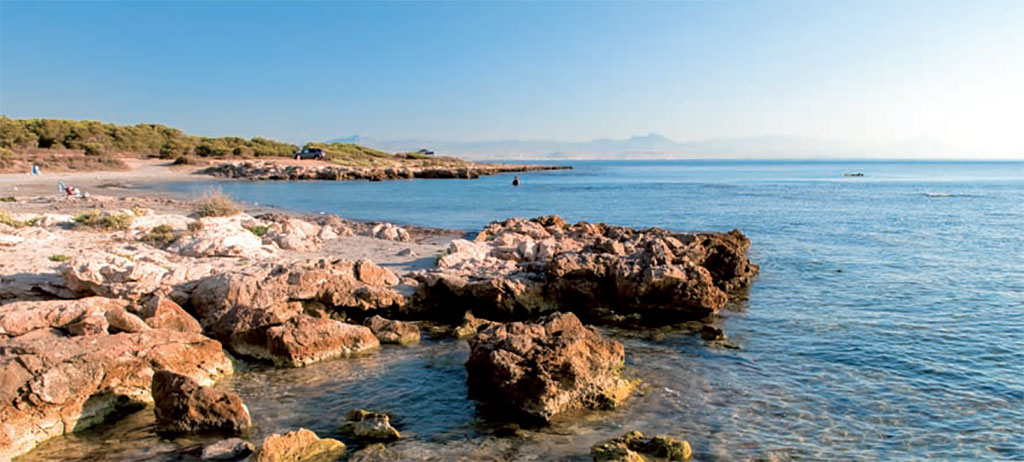 From the Cape of Santa Pola and more specifically from its lighthouse, one can dream of distant marine voyages, visit the Island of Tabarca as a bird's eye or peer into the distant capital of the province, the city of Alicante, plunged into its bustle.
On the slopes of the mountain that forms this rather rounded cape, there is a length of unique beaches in its landscape, with stretches with few agglomerations and not always equipped with all the services or the expected accesses, but impressive, special and beautiful.
From the saltworks of Santa Pola located to the south of the cape to the north and declared a Natural Park, the opportunities for intimacy with the sea, the sand, the rock and the splendid climate are varied.
Thus we find the Pinet beach, surrounded by dunes and a salt exploitation visible from away by the huge mountains of salt that glisten in the distance: the paradise of the phoenix, flamingos, which rises from its own ashes; the Egyptian sacred bird par excellence; the domain of anatids and waders.
From the lighthouse towards the north but transiting the shore of the sea is the cala de l'Aljup, decorated in the sky by the color of a multitude of paragliders that catapulted from the top of the sierra looking for a happy landing at the edge of the sea.