Alicante's Film Festival promotes 'Cine bajo la luna' with movies and dinners outdoors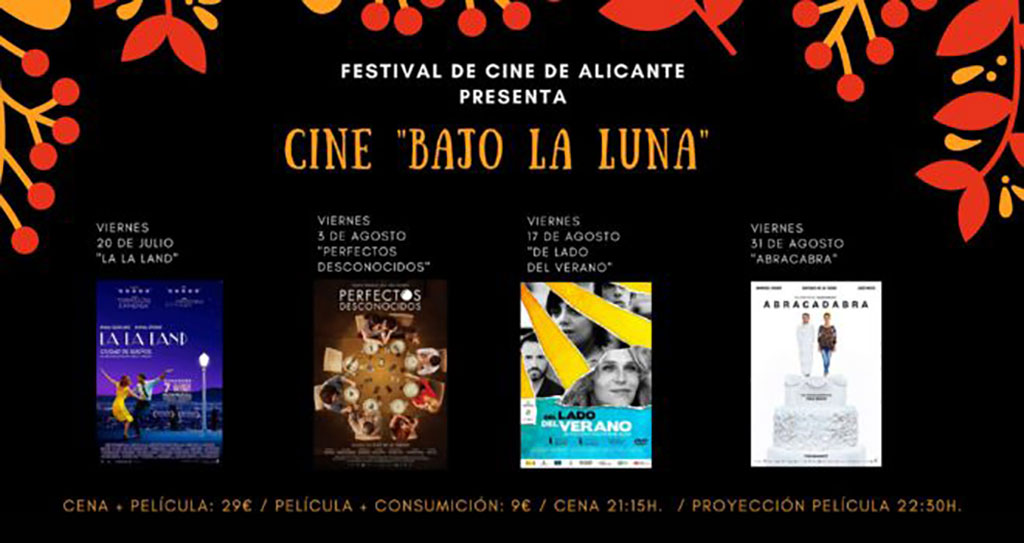 By Festival de Cine de Alicante
The Alicante's Film Festival has launched a new initiative that under the title 'Cine bajo la luna', includes a proposal linking culture and gastronomy outdoors.
This activity on Friday 20 July, 3 August, 17 August and 31 August will be held at the Finca Casa Luna, located in the street Té four, next to the Hogar Provincial.
This new film series includes a closed menu in addition to the outdoor screenings at a price of 29 euros. Also, you can attend the screening and only buy a drink for 9 euros. Dinner will begin at 21:15 pm and screening of the film at 22:30.
The first screening will be on Friday July 20 with the film 'La la land', a musical that was a hit at the box office, starring Emma Stone and Ryan Gosling. it tells the story of Mia, a waitress in Hollywood who aspires to be a Sebastian great actress and a jazz pianist with big ambitions unemployed despite their differences and their different personalities, thanks to a series of events will make your paths end up crossing.
The second screening will be on Friday August 3 and is entitled 'Perfectos desconocidos', film directed by Alex de la Iglesia and with a star cast: Belen Rueda, Eduard Fernandez, Eduardo Noriega, Ernesto Alterio, Juana Acosta, Dafne Fernandez and Pepón Nieto. The story takes place at a dinner between four couples who know of a lifetime where a game that will table their worst secrets are proposed: read aloud messages and calls from your mobile, your entire life shared by all in then, they will come to light many hidden aspects…
The third screening will be on Friday, August 17, with the film directed by Antonia San Juan 'Del lado del verano', in the casting has Macarena Gómez and Luis Miguel Segui, aside from the director. This movie was awarded the Tesela de Oro award for best film and Tesela de Plata for best actress, Macarena Gómez, in the ninth edition of Festival de Cine de Alicante. The story tells us about the routine life of a family is altered when the father dies. One daughter, Tana, has a dream: to fly away from familiar surroundings but … how to desert the family without losing the family? and how to leave the family to help her?
The cycle will close with the four screening, the comedy 'Abracabra', directed by Pablo Bergert and starring Maribel Verdú, Antonio de la Torre and Jose Mota. The film tells the story of Carmen (Maribel Verdu), a housewife from Madrid's Carabanchel district, who one day discovers that her husband, Carlos (Antonio de la Torre), seems possessed by an evil spirit. There begins a thorough investigation, including terrifying and absurd to try to recover.
It is recommended to book by phone 965 15 95 24 / 608 68 61 77.