The small cove takes its name from the seventeenth-century fortification, witness to skirmishes with pirates and razor-sharp raids that razed the coastal villages, which it's located to the south of the cove on a limestone promontory overlooking the Mediterranean.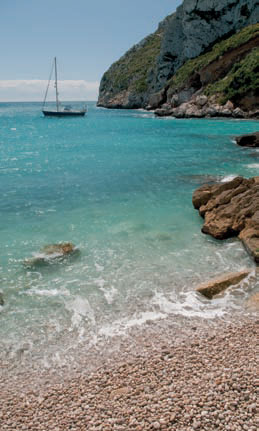 The parasols, as a symbol of tourist use, are installed in the bed of boulders that gives access to the beach with extremely calm waters due to the orientation of the beach, the shape of a small crescent moon and the protection provided by the Cabo de la Nao.
The presence of the Island of the Descubridor or of Ambolo to the north and the calm and limpid waters, contrast their color with the greenery of the vegetation that embraces the small cliffs where the buildings could not climb.
From the beach, scuba divers know of caves and crevices where they can get groupers, moray eels and lobsters out of their lethargy, inhabitants of the rich backgrounds. The cove is known by divers and is ideal for a first dive because of its almost always calm waters. In addition, the same ramps used to launch boats serve for better access to water with heavy diving equipment.