'Low Festival 2018', a national and international independent music festival, starts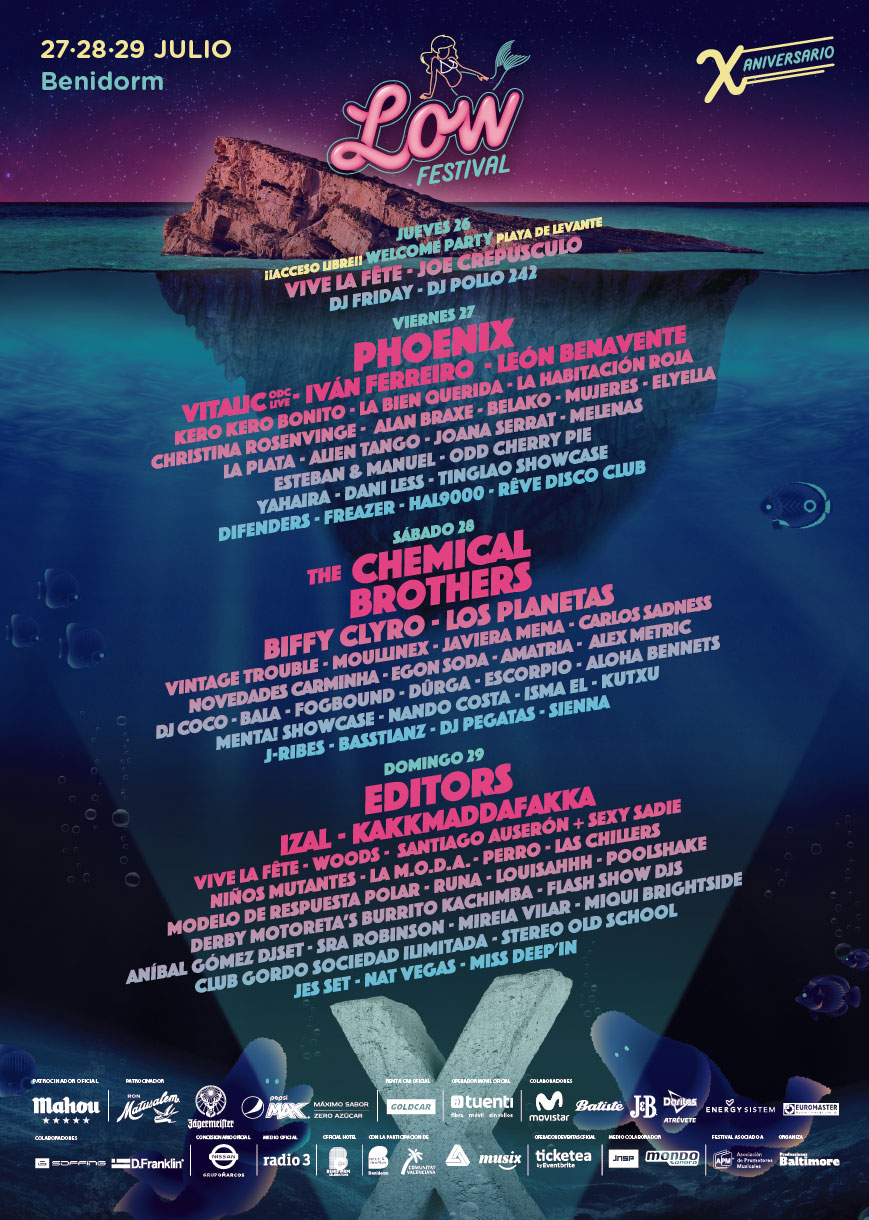 By #Low2018
The tenth edition of the Benidorm festival will take place on July 27, 28 and 29 at the Ciudad Deportiva Guillermo Amor in Benidorm
Before, on Thursday, July 26, Vive La Fête and Joe Crepúsculo will take the Levante Beach from the skyscraper city on an open date to the public where lowers will be able to not only dance, but also exchange your bracelet and avoid waiting for the next day.
On Friday the 27th, already in the venue, the live music will begin to sound past seven o'clock in the afternoon, with the folk-rock of Joana Serrat in the Matusalem Stage, and it will grow in intensity of the hand of Bien Querida or Iván Ferreiro, until reaching its climax at dawn with Phoenix and Vitalic ODC Live in the Stage Vibra Mahou.
On Saturday the 28th, the highlight of the night will undoubtedly be starring in the new show of The Chemical Brothers, in what promises to be one of the best shows in the history of Low Festival. It will be two o'clock in the morning, and by then they will have already gone through the historical #Low2018 stages like Los Planetas or unknown bands in Benidorm, like Vintage Trouble or Biffy Clyro.
Sunday 29 will start with the dreamy pop of Poolshake in the Jägermeister Stage, and continue in style with the live performances of Izal em>, Editor or Kakkmaddafakka, until the epic closing that will star Las Chillers, Live La Fête and Flash Show DJs.
Low Festival has consolidated in its nine previous editions as the most comfortable and complete summer festival on the national scene, with more than 70 artists from rock, pop and electronic music, a very comfortable venue (four stages at a maximum five minutes walk, turf, maximum cleaning and zero agglomerations), an iconic city and, above all, an incredible atmosphere, with all the good vibes that come from the lowers.
Schedule