Novelda – an intense weekend with both a Craft and a Grape Fair

By ayto-novelda.es
Both fairs will be held at the 'Glorieta de Novelda'. With the crafts fair from 9 to 11 November and the grape fair on Saturday 10 November.
The 'Craft Fair' brings togethers a wide selection of artisans, who will both show visitors how they work and sell their products including a whole range of ceramics, recycled wood furniture, leather bags and folders, jewellery and costume jewellery, hand-woven shawls, patchwork, beeswax candles, engraved glass and fun figures made of acorns or papier maché. A great range of authentic craftsmanship.
Children will be entertained with various workshops, a play area including board games and, on Saturday and Sunday, a carousel. On Saturday morning a dj will enliven the fair followed by a concert at 18:00. Afterwards traditional dulzaina and drum music will keep up the good vibes.
On Saturday the 'Grape Fair' joins the fun selling Vinalopó grapes in bags (the same grape eaten in Spain at midnight on New Year's Eve along with the traditional bells) wine and other products made with grapes. Local bars and restaurants will also offer a range of grape-based tapas for the occasion.
Eight local restaurants (La Villa, Bodega Heretat de Cesilia, Casa L'Art, Levante, La Mola, Cucuch, Ristorante Italiano and Clandestino Gastrobar) will participate in the Gastronomic Days of Grape and Saffron with grape-based menus that day.
Schedule
Mornings from 11:00 to 14:00.
Afternoons from 17:00 to 21:00 (Friday starting at 18:00).
Programme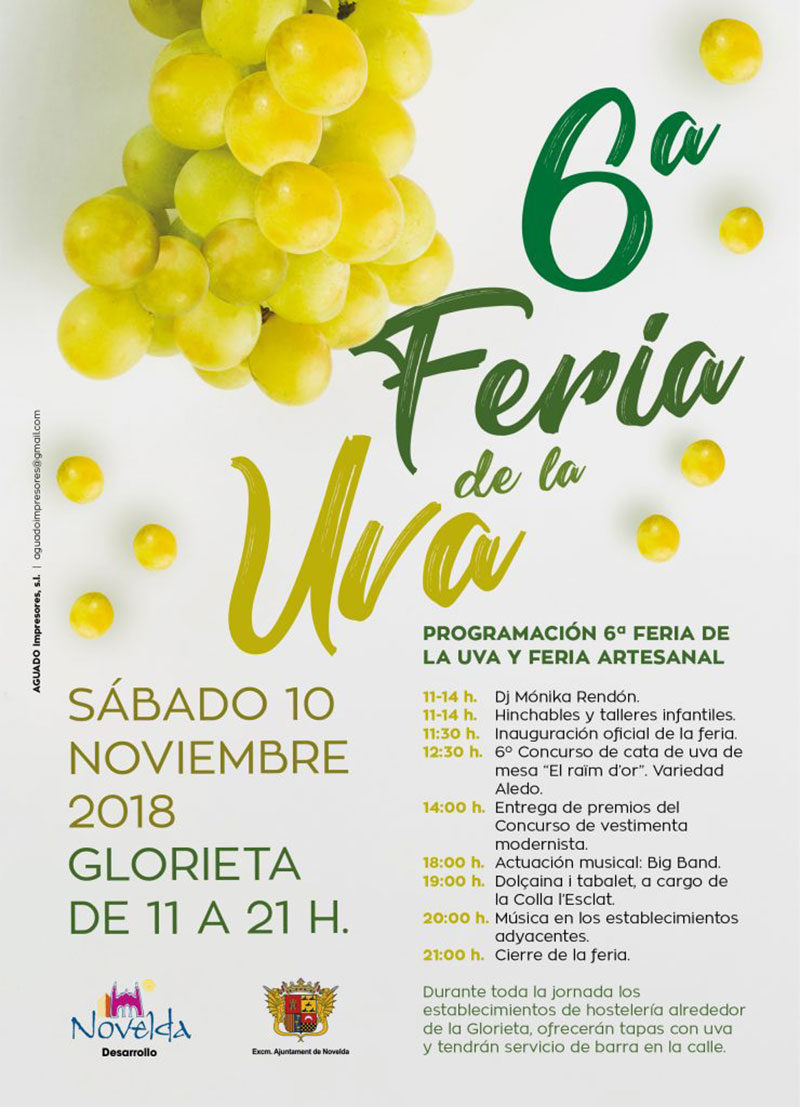 Location