Les Rotes – Punta Negra (Denia)

The city of Dénia captivates the visitor by different fronts: the goodness of its climate, its dynamic and bold city open to the sea and its renowned gastronomy, based on the products of the sea. Its people, accustomed to visitors, are also an asset of the region.
Although the urban complexity of Denia overwhelms and confuses the new visitor, the always visible geographical reference that constitutes the Montgó allows us to guide us between so different sectors of the dianic coast. The coast towards the Montgó, a venerated mountain and declared a Natural Ppark worth climbing if the forces are found and the will does not falter, it becomes progressively more and more steep and the sand gives way to the rock, sharp and cutting, modeled by water, wind and the stubbornness of time.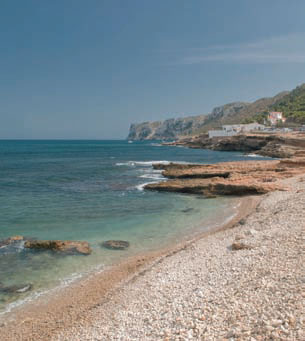 In this area the coast becomes sculpture and the rocky forms are exposed to the four winds; the slope of the mountain is fragmented and the roads that seemed to take us somewhere are diluted like oxygen in the water that the waves carry. Some singular and memorable restaurant will open its doors to surprise us and please not only our stomach, but our spirit of traveler seeking new experiences. If the land is surprising, the sea also offers us pleasures reserved for a few and those who dare to cross the border will observe the roots of the mountain, which, like a living being, plunges its roots into the bowels of the earth and, in that battle, the marine fauna finds its maximum splendor: groupers, lobsters, big rockfish and colorful stones covered with colorful seaweed are the submerged heritage that we will find.